All blondes know that maintaining gorgeous blonde hair is an investment in both your money and time. We want you to hold on to your salon fresh blonde tones for as long as possible with the Bleach Blondes Collection. Colour can fade and change over time; cool tones can become warm and brassy, what was once a fresh blonde now seems to have a yellow tone. You don't want that,and we don't want that for you! So, we're here to answer your burning questions with a guide to beautiful blond tresses.
Well, what does purple and blue shampoo actually do?
Toning shampoos play an important part in maintaining your salon fresh blonde by neutralising the unwanted tones in your hair. Taking out the brassy tones that usually leave your salon blonde less than desirable.
The Bleach Blondes range from Lee Stafford features three collections designed for beautiful blonde hair.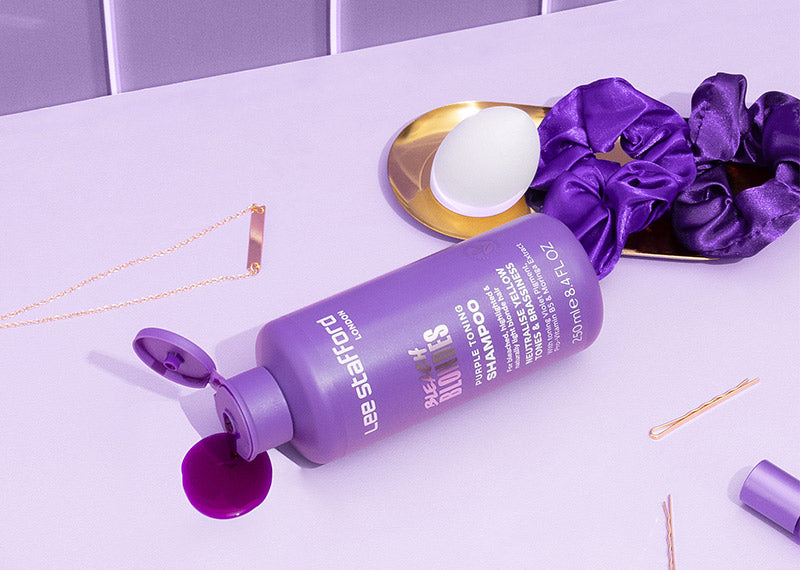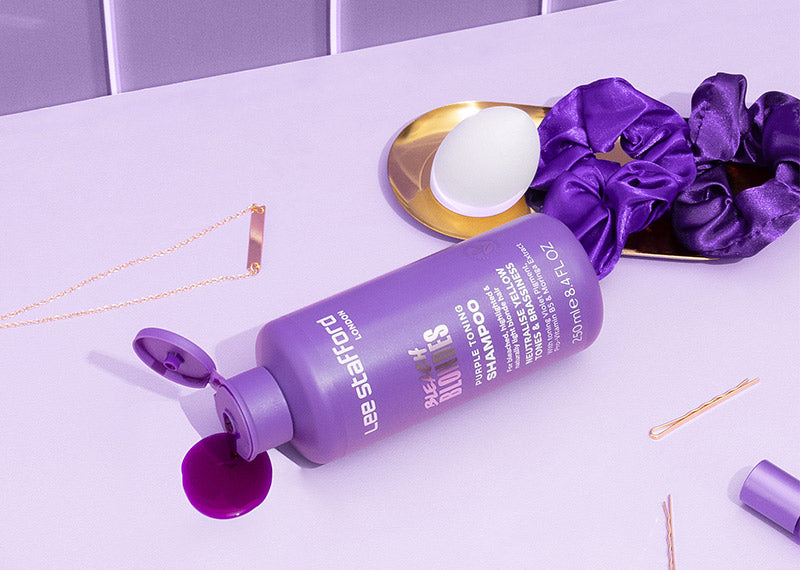 PURPLE VS BLUE

Before you shop the collection, you're probably wondering, "what colour shampoo should I choose for my blonde hair? What's the difference between purple and blue shampoo? Does it really matter what colour shampoo I use?"
The type of colour shampoo you pick depends on your hair colour and the blonde you want to achieve. First you need to understand your hair colour. Whether you're a natural blonde or a converted blonde all hair colours present different undertones. Brunettes produce warmer orange undertones, while blonde hair yellow undertones. When these warm tones present themselves in your hair that is when you'll notice the dreaded brassy tones that you did not sign up for. On the colour wheel, the colours opposite each other neutralise each other. Yellow sits opposite purple and orange opposite blue.

If you're blonde is edging closer to yellow then purple will cancel out those unwanted yellow tones, that leave your blonde looking more DIY accident fresh than salon fresh. Perfect for natural blondes that dye their hair.

If you're a darker blonde with orange tones, blue shampoo neutralises orange tones within blonde hair, banishing brassiness. Perfect for brunettes turned blonde converts, whether you've gone ombre, balayage, highlights or gone all the way.

Say no to brassy tones and hello to perfect blonde with our Bleach Blondes Collection.
BLEACH BLONDES PURPLE TONING

The Purple Toning range was born from our original award-winning purple toning shampoo. So, you're guaranteed we know our blondes. Why do you need purple shampoo? This range is specifically created to cast away yellow tones and leave you with bright and vibrant blonde. Maintaining blonde hair can be damaging to your locks, the Purple Toning family ensures deep repair for bleached hair from root to tip. Use them every other wash and you'll have them wondering if your hair stylist is on speed dial.

Wear your blonde crown high with the Purple Toning range.

SHOP PURPLE TONING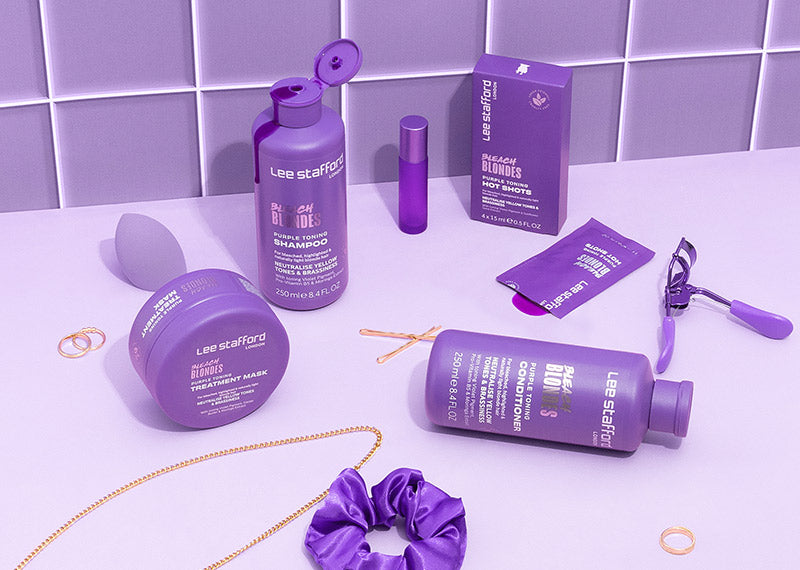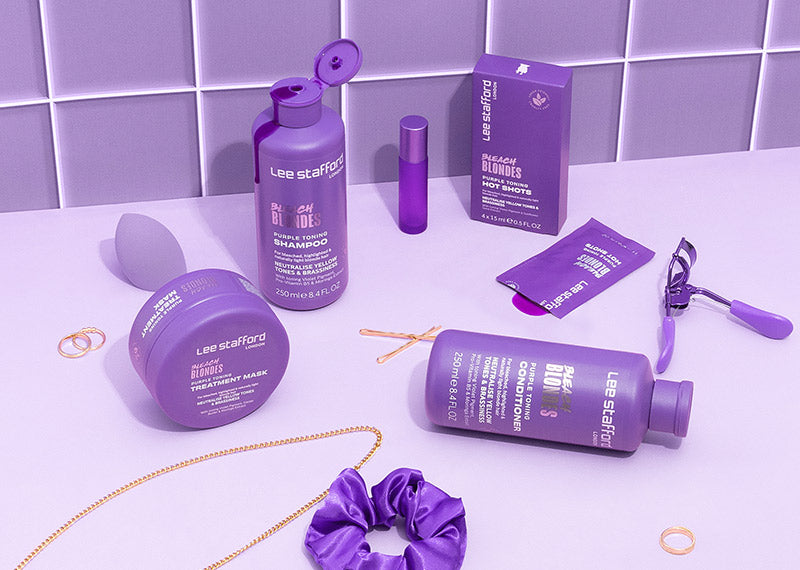 BLEACH BLONDES EVERYDAY CARE

Being blonde is not just a hair colour, it's a lifestyle! The Everyday Care range designed for everyday use to protect, nourish and keep your blonde hair happy every day. Formulated with a hint of purple makes the everyday care range an essential part of your routine. Suitable for all blondes, use in between your toning washes for salon-fresh hair everyday. It's not just about beautiful blonde tones, but about healthy blonde hair. Repair, smooth and protect your tresses with deeply hydrating and gentle products for a "just left the salon" feel.

Blondes have more fun with Everyday Care.
SHOP EVERYDAY CARE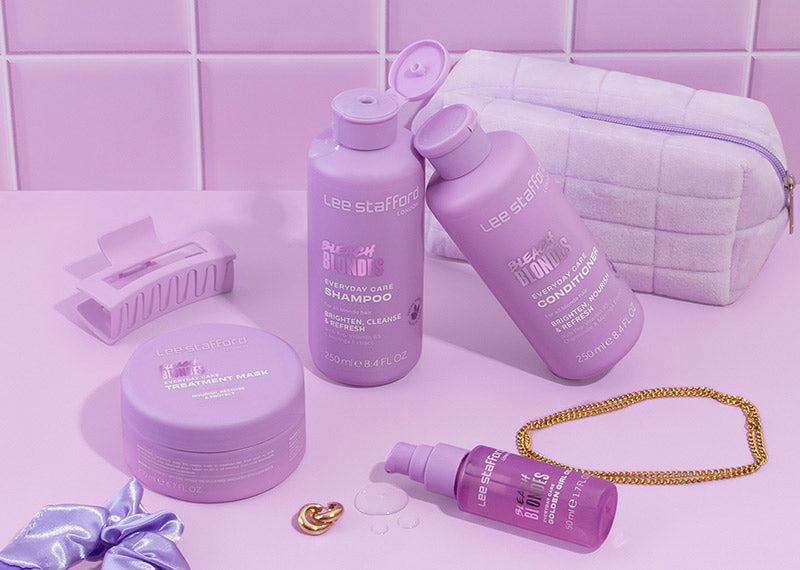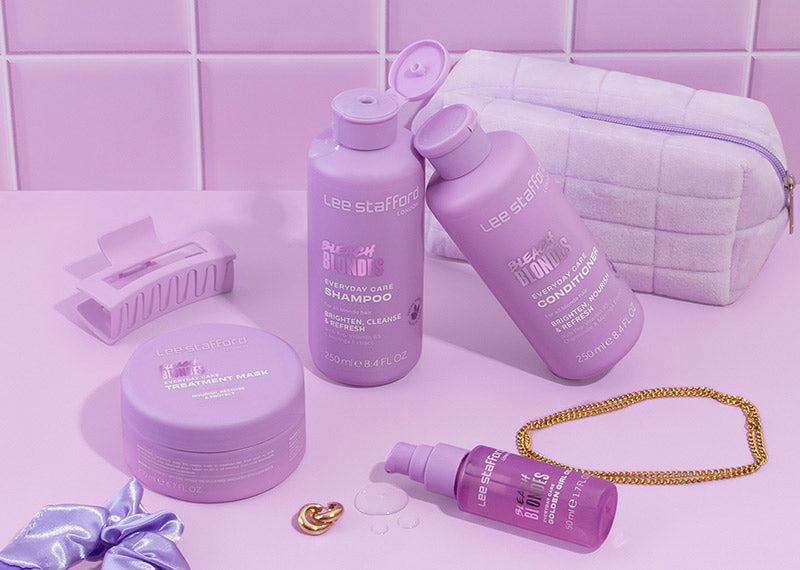 ICE WHITE TONING

The only thing that should be icy is your blonde. Use the Ice White range every other wash to keep your blonde cool and vibrant or use every day to overtone to grey. Use the full range and you're guaranteed the iciest blonde. Designed to deeply repair bleached hair, banish brassiness and transform orange tone into an icy, pearlescent hue.
SHOP ICE WHITE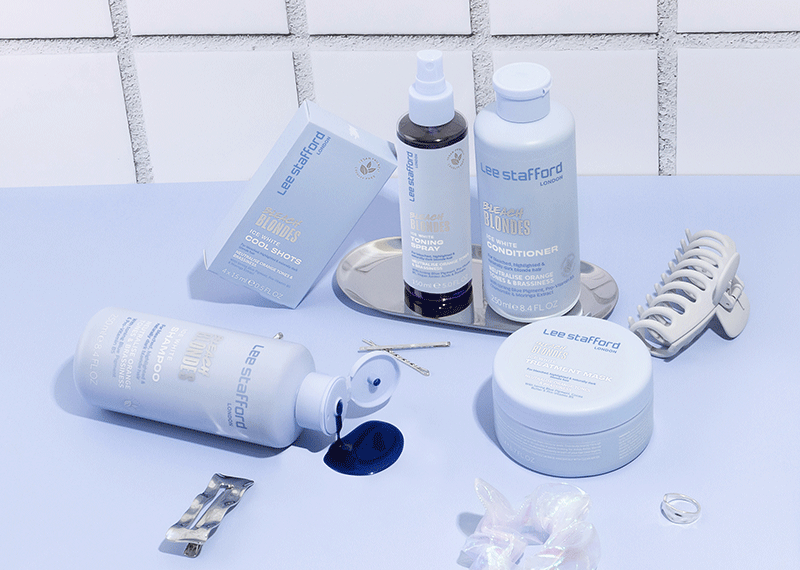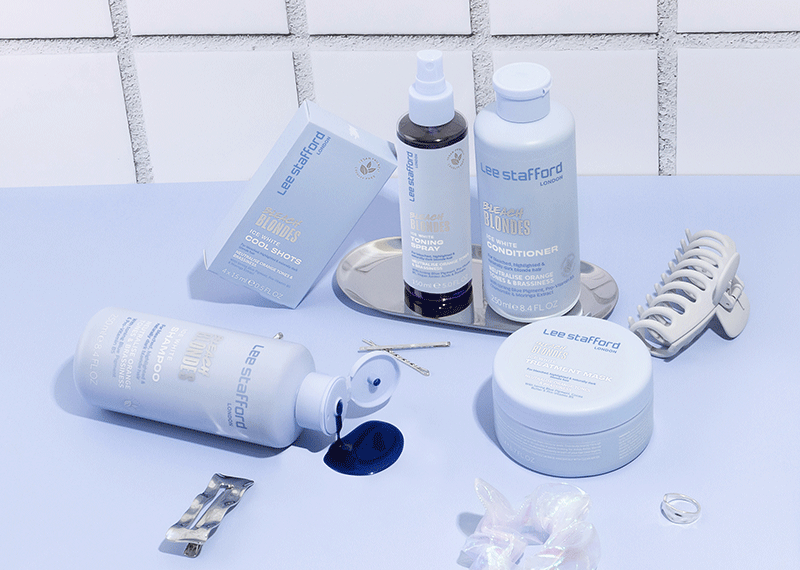 WARM TONES OR COOL TONES?

Purple Toning collection

Designed to deeply repair bleached hair from root to tip. Use these products every other wash to keep colour salon-fresh. Containing violet pigment to target and eliminate yellow tones, leaving a soft, creamy, vanilla shade, whilst keeping brassy hair at bay.


Ice White collection

Designed to deeply repair bleached hair from root to tip. Use this range every other wash to keep colour cool and vibrant or use every day to overtone to grey. Formulated with blue pigment to banish brassiness and transform orange tones into an icy, pearlescent hue.

Create your perfect blonde tone while deeply repairing bleached hair from root-to-tip with Bleach Blondes from Lee Stafford.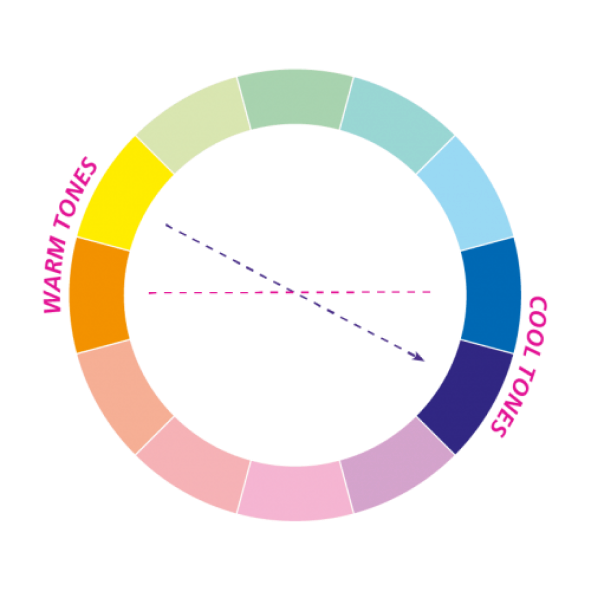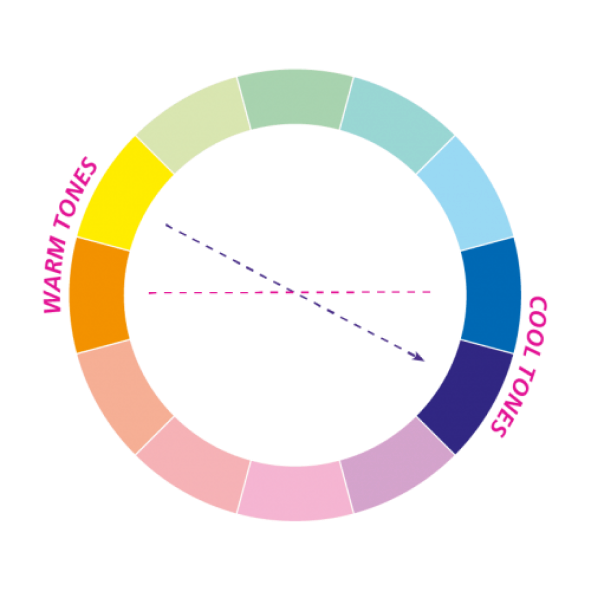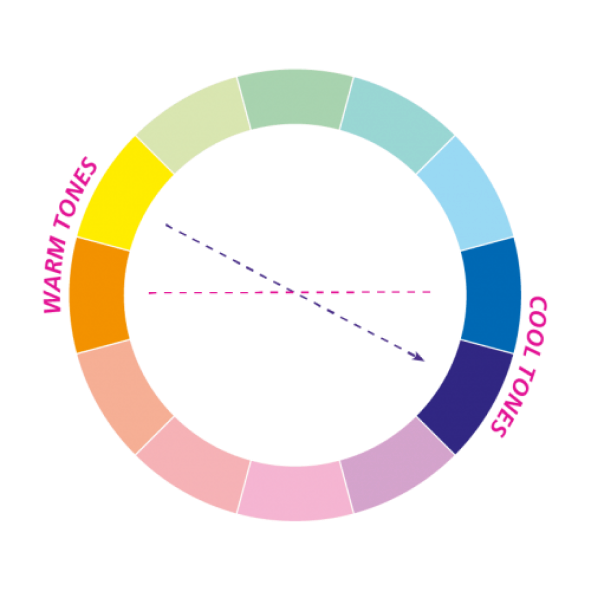 FAQS
Designed to instantly knock out unwanted warm tones in one wash AND boost your blonde, the award-winning Bleach Blondes range from Lee Stafford contains TWO toning pigment shades to keep hair salon fresh.

Use our colour wheel to help!

Purple sits directly opposite yellow on the colour wheel which means purple pigment helps to cancel out unwanted yellow tones within blonde hair leaving a soft, creamy, vanilla shade

Blue sits directly opposite orange on the colour wheel which means blue pigment helps to knock out unwanted orange tones within blonde hair. Ice White helps to banish brassiness and create an icy, pearlescent tone

Orange/brassiness? – Ice White
After an icy, silver grey look? – Ice White
Brighten and refresh blonde? – Purple Toning
Neutralise yellow tones? – Purple Toning

Create and maintain your perfect shade of blonde, whilst deeply repairing bleached hair from root-to-tip.
The Bleach Blondes range can absolutely be used on grey and white hair. The toning process works really well on lighter bases, so we recommend washing 1-2 times in a row to prevent over-toning. For a more dramatic look, use more frequently and leave on for longer when washing. For those wanting to knock out warmer, orange tones in white or grey hair, use Ice White Toning shampoo, leaving hair with a silver finish. For those who want to target yellow tones, choose the Bleach Blondes Purple Toning shampoo for a brighter, refreshed finish.
None of the products within the Bleach Blondes range contain Bleach the formulations only contain toning elements to help with achieving certain tones along the blonde spectrum. They will help to lift brassy tones without damaging the hair.
For best results, we recommend leaving the toning masks on for 1-5 minutes. To achieve a more dramatic result, simply leave the mask on to over tone with blue or purple pigment. The longer you leave it on the more colour payoff it gives. Don't forget that over-toning washes out easily with1-3 non toning, non-pigment shampoos.
Yes! Lots of our colleagues and customers use the products on dry hair – we find it helps create a more intense and defined look. Please note you should only apply to dry hair if you want an intense, over toned look. The product will still need to be rinsed off thoroughly.
Everyday Care products are perfect for everyday use in between toning products. Everyday Care shampoo and conditioner contain a very low level of purple toning pigments to help keep tones vibrant and salon fresh, maintain and protect colour whilst keeping hair healthy and nourished. You cannot overtone using these products.
Yes, however results may vary depending on the condition and colour of your hair. Best results are achieved on bleached or lighter blonde hair.
Kiss Of Colour, only works on light to mid blonde or bleached hair as the pigmentation needs a very light base for the colour pigment to show.
Yes! Although very subtle, the Ice White colours are blue and Purple Toning is purple!

FUN FACT: did you know Lee Stafford's Purple Toning Shampoo was one of the first toning shampoos to hit the shelves in Boots! Not only was it an instant hit, but it also stood the test of time by becoming one of our no.1 best sellers!